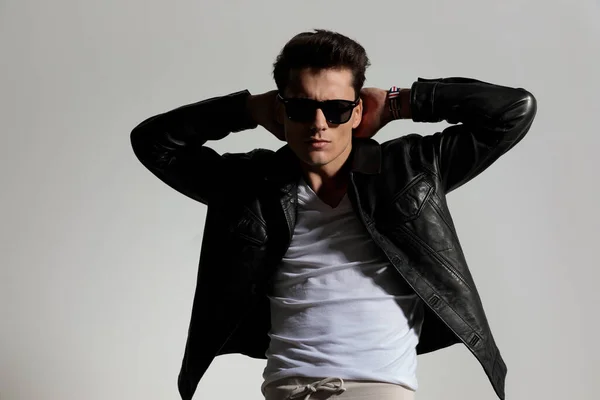 First Year Earns Respect of School by Beating Up Biggest Guy on the Quad
Freshman Doug Edwards made waves last week by beating up the biggest guy on campus, thus placing himself at the top of the school's social hierarchy. Students at UChicago, who have long determined status based on being big and strong, were shocked when Edwards unseated Big Man on Campus Mikey Poundsmith in a fist fight outside of Ryerson Chemical Laboratory.
Edwards reportedly approached Poundsmith and declared, "I'm the coolest kid in school now. I'm the big cheese," before striking him in the jaw. According to witnesses, Edwards subsequently made Poundsmith eat a bug. By noon that day, word had reached the whole school that Edwards was the new Big Kahuna.
"It was pretty bitchin,'" agreed UChicago President Paul Alivasatos, who also witnessed the fight. "Doug is one cool cat in my book."
"I thought Doug was just a quiet kid from the New York Metropolitan Area," said Arnold Mann, who lives next to Edwards in Woodlawn Residential Commons, "But after he beat up that guy, I guess he's like our king now."
Edwards has moved quickly in capitalizing on his newfound social cachet, forming a gang of toadies and hangers-on who follow him around campus. Calling themselves "The Gators," each member of the gang sports a leather jacket with an alligator emblem stenciled on the back. They can be found around campus snapping their fingers in unison and combing and/or gelling their hair menacingly. 
The Gators have already run afoul multiple times since their founding. Most recently, they were cited by UCPD for shaking down famed UChicago economist Stephen Levitt for his lunch money.

Jacob Halabe is a pseudonym of famously reclusive author JD Salinger. Despite reports that he died in 2010, Salinger is actually alive and well, posing as a second year History major at the University of Chicago. Jacob (ie: Salinger) is a big fan of The Shady Dealer and also serves as a co-copy editor. When not penning satire, you can find him working on his forthcoming novel The Catcher in the Rye 2: This Time It's Personal
[Note: He assumes no legal liability if -- upon reading this bio -- you are filled with the uncontrollable urge to kill John Lennon]