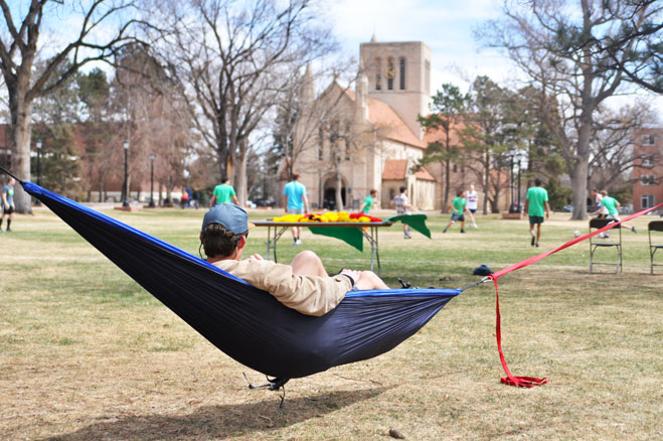 My Student Government Platform? More Hammocks
Spring quarter can be a stressful time for everyone. Some people are saying their goodbyes to this campus as they prepare to enter the real world, others cling to Hyde Park as they desperately try to find the cheapest summer sublet (if anyone has an apartment with A/C please Facebook Message me). And on top of the increasing amounts midterms and relationship drama, suddenly there are student government elections to care about. How is any student supposed to make sense of reform politics or the Moose Party? It's too much. Don't you wish you could just sit back and relax for a bit? Maybe suspended between two trees, swaying in the breeze? That's why I am excited to announce my campaign for student government with a one-plank policy to improve campus life: more hammocks.
The hammock forms the backbone of the college experience. There's nothing that screams Life of the Mind more than kicking it back with the bros on the quad. Hammocks are the watering holes of student life. I know that for me, all my closest friendships have flourished within the warm folds of a hammocks silicon embrace. On hammocks, we as a community have all laughed, cried, and grown. Hammocks make us stronger. They tie the bonds between us, and bring together the diverse branches of UChicago, spanning across lines, whether they be cultural, political, or sidewalk lines.
The solutions I propose are simple. Step one is to plant more trees at appropriate hammock distances apart. Step two is to divert RSO funds to the purchasing of more hammocks. With these two simple changes, the entirety of the College will be chilling in no time.
I have already discussed my policies with Dean Boyer. He told me that Harvard currently has three times as many hammocks per capita as the University of Chicago, and he is willing to do anything the bridge that gap.
An increase in hammocks will boost admissions. Every parent wants to see a vibrant student life while on their tour, and there's nothing more vibrant, nor more student life, than a neon-colored tarp strapped to two oak trees.
It was on a hammock, hanging across from Botany Pond, that I lost my virginity. It is my wish to spread this kind of joy to the rest of the student body. I aim to change the perception of UChicago hookup culture, one hammock at a time.
With the help of administration, I believe I can make this campus a better place. No longer will this university be known as the place where fun goes to die. Instead, they will call it where students go to sit in hammocks.