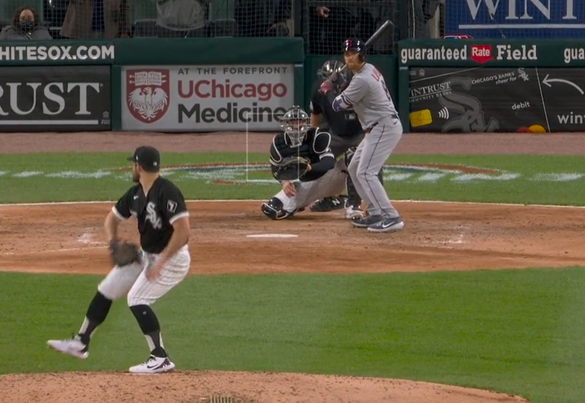 UChicago Ad "At the Forefront" of Carlos Rodón's No-Hitter
In what is perhaps the closest UChicago has come to reaching the major leagues since Art Lopatka in 1946, a UChicago Medicine ad was seen during the final moments of Carlos Rodón's historic no-hitter for the Chicago White Sox on Wednesday. The ad appeared behind home plate for the bottom of the ninth inning.
UChicago's marketing department released a statement celebrating this accomplishment:
From UChicago to the majors! With the entire baseball world watching, a UChicago Medicine ad played a pivotal role in Carlos Rodón's dynamic no-hit win over the Cleveland Indians on Wednesday.
"We think the sign was one of the most important factors in Carlos's performance," said UChicago Medicine's advertising department. "Rodón came out in the ninth, saw the sign for the first time, and then immediately proceeded to throw as hard as he had all night. I'm not sure there's any other factor that can explain why he'd be throwing like that in the ninth inning of a game the Sox already had in the bag."
For students — or prospective students — watching Rodón's no-hitter, the ad served as a reminder of UChicago's powerful reach. Preliminary estimates from the admissions department showed that the university would likely receive 4000 additional applications as a result of the sign's appearance. "The ad is a great example of how UChicago can get you wherever you want to go," said Dean of Admissions Jim Nondorf, "as long as where you want to go is being on the outside of the majors looking in."
"The ad represents UChicago's powerful commitment to the South Side," said John Boyer, Dean of the College. "The message is clear: nothing, not even baseball players, will stand in the way of the University's symbiotic relationship with its surrounding community. Except for that pitcher. He was standing in the way of the sign for a while. Frankly, I'm not sure why they have to always be playing baseball in front of the sign." 
Rodón's no-hitter, and the sign along with it, served as a beacon of hope during a difficult time for the University. "We hope that Carlos' dynamic, lockdown performance provides a great example for the University community while our stay-at-home order is still in place," Michele Rasmussen, Dean of Students in the University, said. "Like the Cleveland hitters did on Wednesday, students should not leave home for any reason."