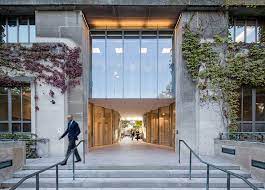 Inaugural Spring Break Activities to Attract Record Numbers
Administration initially expressed concern over students leaving campus during the week of March 22 (recently coined "Spring Break"). "To keep students here, we may have to restrict access to the Maroon to devices on campus," announced the Chairman of the Board. "That should do it," the board agreed.
It was a concern until administration released a collection of special Spring Break Activities for on-campus students. Following an email announcing these developments, reports say, all hotels within a 5-mile radius immediately booked to capacity. Students cancelled plans to return home over break, their families opting instead to travel to Chicago for a rich variety of activities and programs offered by the University, including: spending time on a virtual campus; brand new, limited-time, historic sites; online coloring books that you're not allowed to use if you leave campus; and playlists that, again, you're not allowed to use if you leave campus. 
The University is especially pleased to launch its inaugural "Springtime in Chicago" initiative, offering for the first time an assortment of tulips, museums, and restaurants. Dean Boyer, who spearheaded this project, advised against the dangers of experiencing these attractions in-person: "We'd like to stress that these exciting activities, unique to our University community, are most safely and thoroughly enjoyed from the solitary confinement of a dark room."
Despite these warnings, the University has been unable to keep unsafe numbers from storming its campus – the physical one too, but mostly the virtual one. Fearing backlash from the University's irate COVID-19 Safety Committee, who "knew the springtime thing was a terrible idea all along," Dean Boyer is rumored to have fled. He was last seen cycling 18 miles south of campus, moving at "dangerous speeds," reports say. Administration asks that folks reading this keep an eye out, promising a large sum in exchange for his return.