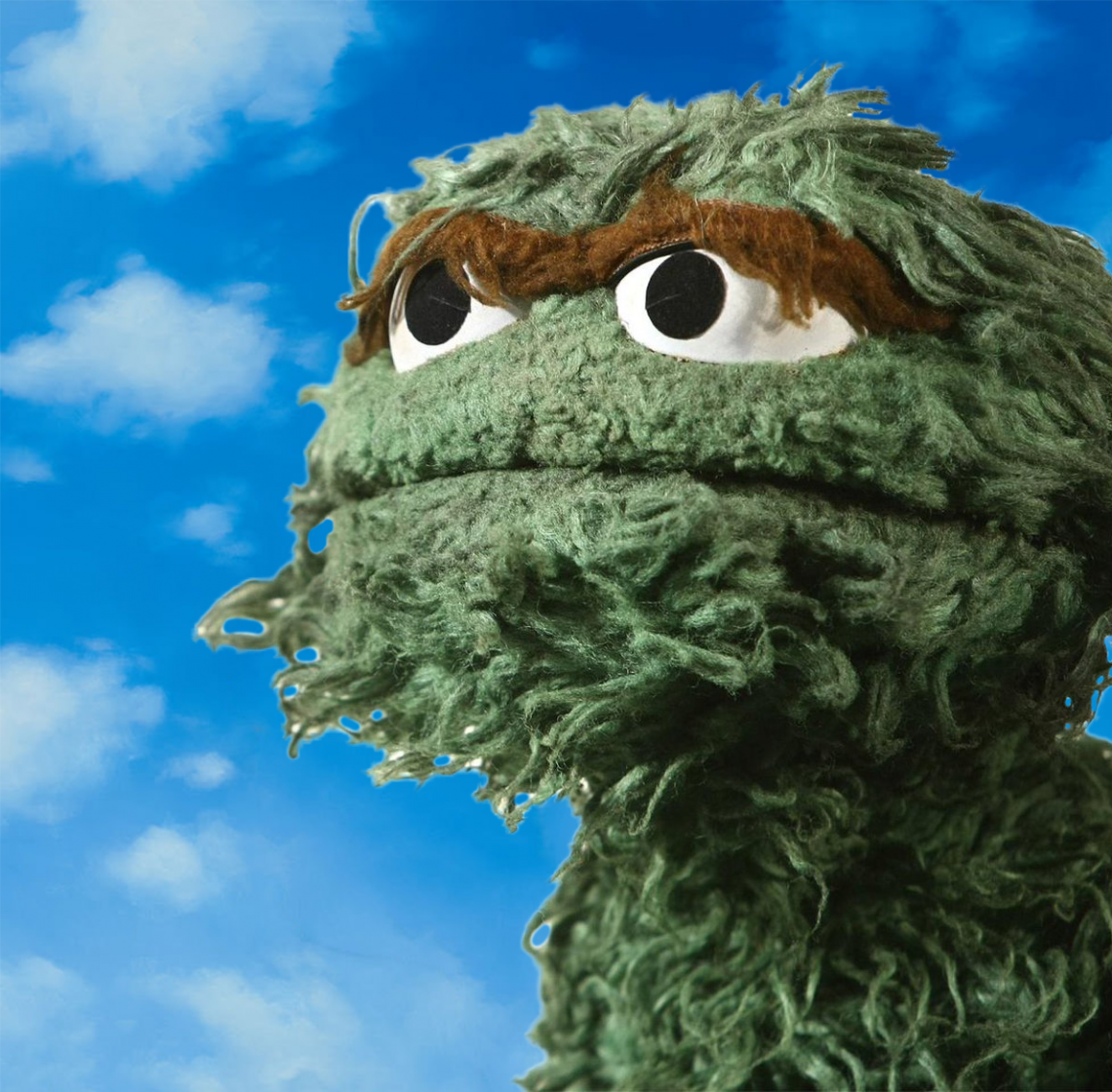 5 Takeaways from Oscar the Grouch's New Album: When I Get Home, to My Trash Can
In true chaos-Muppet fashion, Oscar the Grouch revealed only a small handful of clues about his new album, When I Get Home, to My Trash Can, ahead of its arrival yesterday in the dead of night. He opened the lid of his trash home on Sesame Street and yelled, "Listen up, fuckers, here's my tunes." Maria, a friendly neighbor and national household name, was woken by this cry and one of the first to hear the album. She said of the songs, "There is a lot of self-loathing at the core. But the electronic and hip-hop drum and bass help you overlook the sadness of his trash lifestyle and his cripplingly low self-esteem, but only just for moments at a time. Maybe this is a glimpse into what it's like to be Oscar the Grouch." More cryptically, she mentioned that she had heard her grouchy neighbor having shouting matches with his ex-girlfriend and artist, Piper the Producer, in the days leading up to the album's surprise release. "One day I just said, I'm done! And I just put it all out there," Oscar told us. 
Earlier this week, when Oscar launched his customized trashcan homeware collection, fans started to see clues in the design to decode what the new album might possibly sound like. In various images, Oscar is seen naked and draped tastefully with banana peels, used condoms, and Snickers wrappers. The visual world that he presented was equally thrilling and perplexing: a portrayal of Sesame Street as a dark "upside down" version of itself, processed through a hazy VSCO filter. 
But all the pieces of the puzzle clicked together when Oscar released When I Get Home, To My Trash Can, a record equally indebted to cosmic jazz as it is to Oscar's signature druggy chopped'n'screwed style. Over the course of 19 fluid tracks, Oscar orchestrates a small army of collaborators, samples a few iconic (and hilarious!) Muppet women, and shows his love to his home street. Here's what you need to know going in. 
Ode to Chaos Muppet Rap
Ahead of the album, Oscar shouted out two Sesame Street rap heroes via his Instagram: Animal and Gonzo. While the latter rapper doesn't appear on When I Get Home, To My Trash Can, the former shows up on "Dreams of My Trash" (a track that also features Earl FleeceNips, as well as bass by Sam the Eagle). It's a full circle moment for Osc, who has covered Earl FleeceNips' 2002 "Doobie Trashcan."
Sesame Street is not the only rich regional hip-hop scene that gets love throughout the record. Considering Elmo's World's stronghold on mainstream rap, it's no surprise that Oscar recruits the city's longstanding titan Dorothy the Goldfish for the sluggish duet, "My Skin My Trash." Cookie Monster also makes a stand-out appearance on "EAT THAT TRASH, ORDER MUPPET BITCH," his squeaky, oddball delivery punctuating the Oscar production. Another unexpected vocal contributor is trap production wizard Dr. Bunsen Honeydew, who is also credited as co-producer on the bop, "Be One With the Trash"
New Ways to Sequence an Album
Back in September, Earl FleeceNips hosted an episode of his Muppet Monster Energy Drink Radio Show "Earl FleeceNips Stays Inside So We Don't Have To See His Weird Nips," and Oscar was a special guest. The episode actually predicted a lot about how both Oscar's When I Get Home, To My Trash Can, and Earl FleeceNips' new album would sound. The two records are somehow both off-kilter and fluid, as samples punch in and out and songs flow into one another. This free-form, continuous production style could definitely be inspired by Ernie's 2017 sample-heavy Bathtub Transcendence project, which consists of two sprawling tracks that are both about 30 minutes long, to be listened to underwater. 
Trash Muppet Narrators
The voices of an eclectic range of iconic trash Muppets are weaved throughout When I Get Home, To My Trash Can. In appointed decision to honor Sesame Street's southwest corner, the neighborhood he grew up in and lives in to this day, Oscar samples Beaker reciting a poem called "On Trash Status." The track title–"M Piggy (Interlude)–refers to a Sesame Street neighbor. Oscar also selects another southwest corner native, the late queer poet and trash Muppet Scooter, to honor on "Exit Trash (interlude)". Scooter's gorgeous love poem, "Where's the Trash Can? I Gotta Throw Out These Orange Peels and DIP" opens the track. 
But Oscar also has a sense of humor about his references. On "We Deal with the Freak'n Trash (intermission)" and "MILKZ," Oscar inserts the words of Elmo's World sex guru Mr. Noodle, whose claim to fame is his hilarious and outrageous public access TV show "Canoodle my Noodle" which ran briefly from 2006 to 2007.