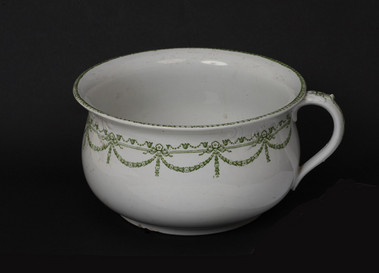 How to Keep Bae from Smelling Your Chamber Pot
So, you have your lover over, you've managed to not step in horse shit all day, and you're lying in bed together. Nothing could go wrong – or could it? Suddenly, the foul stench of your nocturnal waste emissions permeates the room, much to the disgust of your spouse.
Has this ever happened to you? If so, the Shady Dealer has five simple tips to help cover the smell!
1)    Buy some flowers from the local botanist! Buying flowers for one's lover seems to be a trend in these Middle Ages (which I think will die out as flowers do, but that's beside the point). The light smell of roses, columbines, and petunias blends perfectly with the raw sewage, creating a tolerable manure mixture!
2)    Procure incense from the Far East! If flowers' scents just aren't doing it for you, you can take a short 4-year trip along the Silk Road to India! All one needs are a fair amount of gold, a ship, access to a port, and a supply of lemons for scurvy! See, so simple. Wouldn't you much rather have your residence smell like cumin than cum?
3)    Buy a bunch of rats and just have them eat the chamber pot's contents! Why see rats as vermin or urban pestilence? Those short-haired little shits can eat your (hopefully not haired, because that'd be fucking odd) big shits! Rats get taken off the streets, you get free pets, and you don't have to worry about cleanup or emptying ever again! Win-win-win.
4)    Place chamber pots in every other room! Rather than having the fresh scents of gruel, soup of cabbage in water (often too spicy for my taste), and chicken coops, why not make your whole apartment smell like chamber pots? This may seem counterintuitive, I know, but we all get used to smells! This way, it won't stand out.
5)    Be single! This would honestly be the simplest solution of the five. You don't have to worry about a lover smelling thy chamber pot and expressing olfactory displeasure if you have no lover. Plus, there's the added benefit of only having one person's waste to clean up! We highly recommend this, as the Shady Dealer cannot ensure said lover will survive the next plague. Just be fucking single.