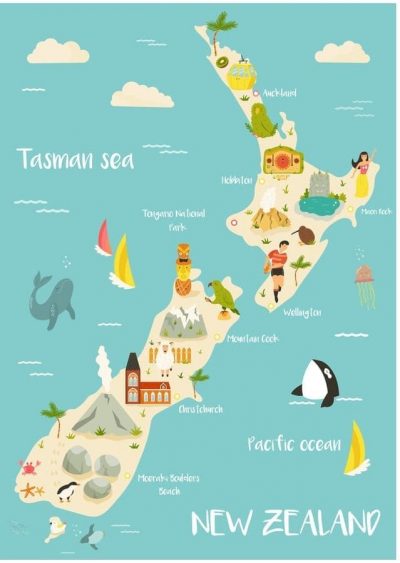 College Announces Precautionary Dorm Relocation to New Zealand
UChicago's Department of Housing and Residence Life announced very late Thursday evening that housing for all undergraduates would be relocated to the suburbs of Wellington, New Zealand, beginning January 2022. The statement was made shortly after Provost Ka Yee C. Lee notified that Winter Quarter would be delayed, presumably aiming to resolve student concerns over housing amid the last-minute schedule change.
Per University announcement, "Community transmission of COVID-19 in New Zealand remains low, especially when compared to the Chicago area. After careful deliberation, we have decided to relocate all student housing from our Hyde Park campus to Churton Park, New Zealand."
The Department of Housing and Residence Life also specifically addressed potential student worries about their sudden relocation to the remote island nation, which happens to be the last major landmass on Earth settled by humans:
"We understand that applying for and obtaining a New Zealand student visa before returning to campus next week may present a challenge to some students. If this is the case for you, we are able to provide a move-in extension of up to 3 days (72 hours). Extensions can be requested through the housing portal (uchicago.starrezhousing.com). You may have to wait in-line as the portal is only able to accommodate one visitor at a time. Our staff is on leave beginning now through the remainder of the year, but we will be open to considering requests around 9am CST on January 1. We also recognize that the 21–45-hour travel day and 50-day cargo shipping times may pose a problem for some Chicago-based students but will unfortunately not be able to provide any accommodations." 
Towards the bottom of the announcement email, the University appended a helpful FAQ for any students whose concerns might still be unmitigated: 
"Frequently Asked Questions
Q: Isn't the border to New Zealand, like, completely closed to international visitors?
A: Actually, they're allowing up to 1,000 undergraduate students to re-enter the country for study. Provided that none of the 180,000+ students from New Zealand's eight universities apply, you have a one-seventh chance, which is pretty good! You beat worse odds with your essay about cosmically infinite Olive Garden breadsticks, and aren't you glad? Good luck!

Q: What about all my clothes that are still sitting in a little concrete cell in Woodlawn Residential Commons East (North)?
A: We will be throwing everything onto the lawn for you to collect like they did during the Great Depression beginning January 1, 2022.
Q: Will we still owe full room and board fees?
A: Yes. You may also be billed a $5000 relocation fee. 
Happy holidays, everyone!"