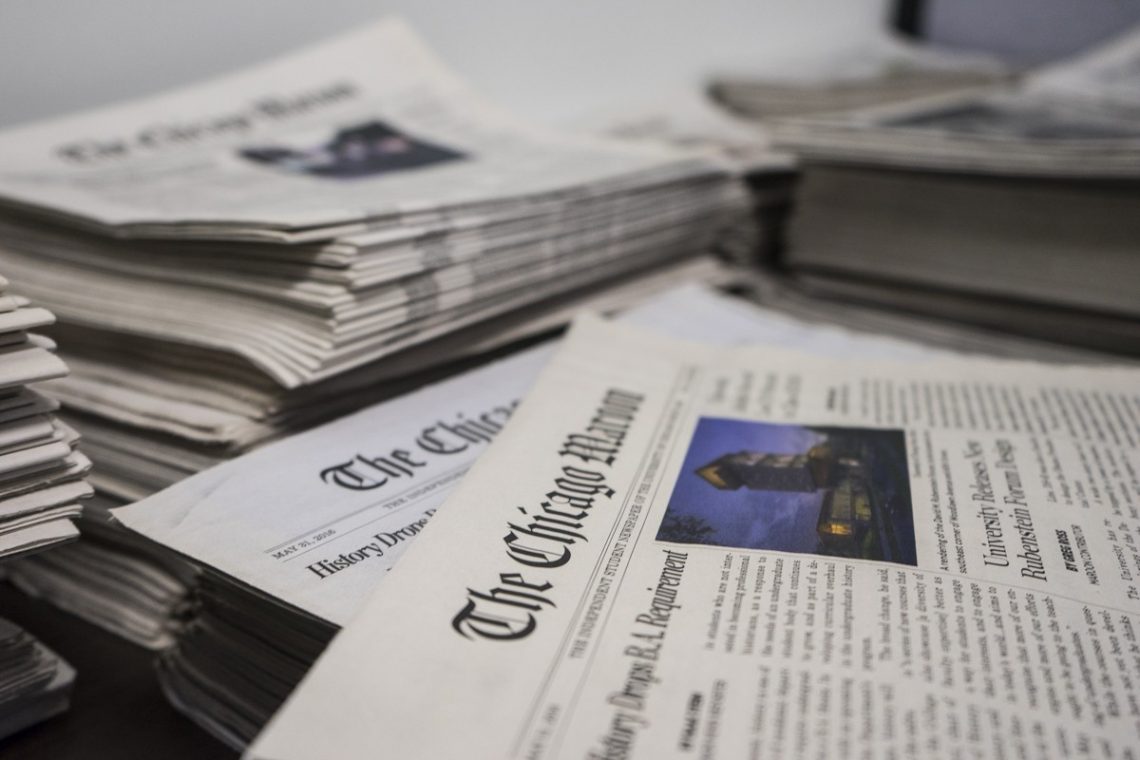 You Got Us: Here are Other Maroon Articles We Released Without People Knowing
FROM THE SHADY DEALER MASTHEAD MONASTERY — As an institution that is unafraid to tell the truth about when we've republished work from peer newspapers, The Shady Dealer must come to terms with the recent happenings on campus. So yes: we used a psychic to predict The Maroon's COVID-19 retrospective so that we could publish it first. We are proud of our creative solutions to contemporary problems, such as overcoming obstacles to satirize what doesn't exist, but with that pride comes a responsibility to be upfront about our sources.
Over the years, we have tried to take inspiration from such literary publishers as Sliced Bread, The Harvard Crimson, and The Alcatraz Review (Alcatraz's inmate-run newspaper, now defunct). However, our readership declined severely after publishing from these works, as they were seen as too serious. Thus, we have dedicated our forces exclusively to divining what the Maroon will publish and beating them to the punch. So, without further ado, here are the remaining headlines in Dealer-published issues which have been pulled word-for-word from The Chicago Maroon, meaning we can no longer take credit for them:
Op-Ed: The Top 200 Milfs in Porn, No Nuance

Grey City: Why Big Mayo Won't Make Mayochup

Viewpoints: I Would Love To Have Sex

From the Editor: Benedict Arnold Was Just Looking Out For Himself

In Memoriam: Looking Back at the Best of George H.W. Bush

In Memoriam: Looking Back at the Worst of FDR

In Memoriam: Looking back at the Absolute Very Best of Dick Cheney

(unpublished)

Lil Yachty: Man or Myth?

BREAKING: Heroic College Newspaper Leaks Identity of 'Deep Throat,' Mark Felt

An Exploration of the Urethra

Safety in the South Side: Why I Don't Walk Past 56th Street

A Case for the Death Penalty (Actually, Two)

Opinion: Judas Did the Right Thing by Snitching

20 Original

Dilbert

Comic Strips (unpublished)

What Dungeon Porn Can Teach Us about the Great Schism

Grey City: The Stats Don't Lie, but My Stepmom Does

First-Years Addicted to Porn, Second-Years Addicted to Lean

Study Shows 'Purp Drank' Responsible For My Court Conviction
We'd like to take this opportunity to again emphasize that The Chicago Maroon wrote every single one of these titles seriously and The Shady Dealer republished the headlines as satire.
BREAKING: OJ Simpson Acquitted, Here's Why I Think He Did It

BREAKING: OJ Convicted, Here's Why Justice Has Been Served

(unpublished)

There's No Place Like Home

—

Life in Ithaca, New York

HISTORICAL ISSUE: 1960s in Review: Jazz Isn't That Good

From Rags to Riches: How the Son of the Second Richest Man in the World Killed the Richest Man in the World

Grey City: Why the Richest Boy in the World Is Also the Loneliest

EXCLUSIVE: 'Anonymous College Newspaper' Leaks Location of Snowden

Moonlight Review: It's Just Okay

La La Land Review: A Cinema Masterpiece

La La Land Review Follow Up: The Story of the White Men Unafraid of Telling the TRUTH About Jazz

Opinion: Why I HATE my Stepdad Derrick

By Popular Demand: La La Land Review Part Three

Zimmer Said WHAT? You Won't Believe What Happened Next

Scientists Hate Him: How This Undergrad Lost 30 Pounds in Two Weeks

Brave Midwestern College Newspaper Leaks Clinton Emails, Asks People to Look Around and See if There's Anything Good in There

Horny Singles in Your Area

Debunked: No Horny Singles in My Area

Product Review: Dasani

Were the Bigots Right? Reflecting on America Today

Viewpoints: Where Have the Big Booty Puerto Rican Goddesses Gone and Why Aren't They on Pornhub Anymore? Immigration in Trump's America

Area Man Loves the New Coldplay Album

Love Wins: Sex Legalized
We thank you all for the opportunity to be honest and clear our consciences. We'd like to thank The Chicago Maroon as well for providing a wealth of hit headlines, which we again remind you are provided word for word above. We are now prepared for death, as we have presented our sins to God.