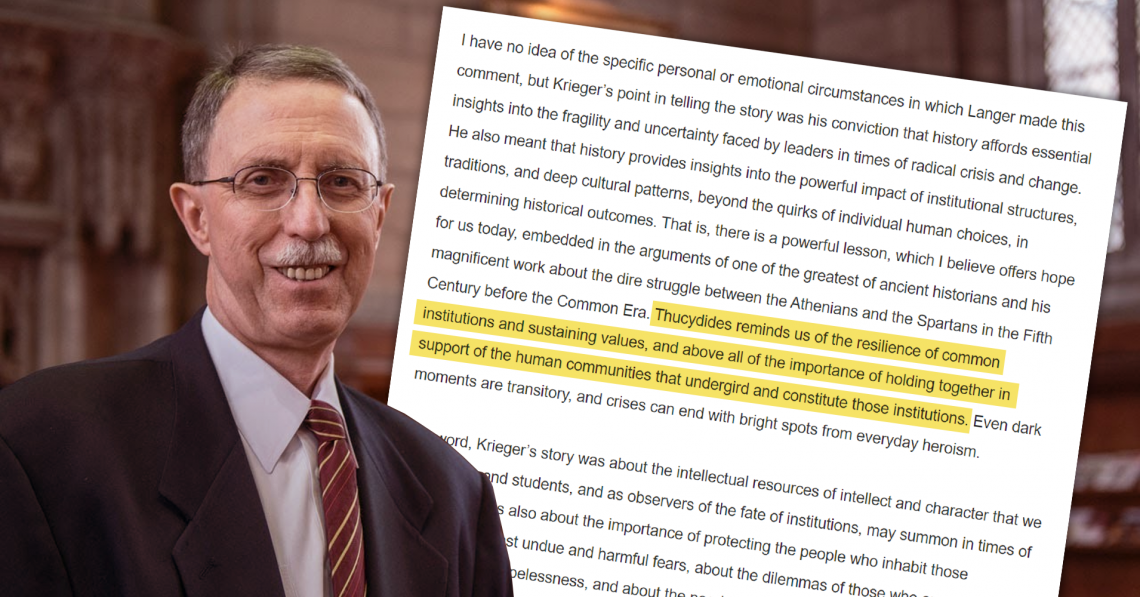 "Perspective for Difficult Times": An Oral History of UChicago's Most Infamous Administrative Email
Three years ago today, administrators at the University of Chicago sent an email entitled "Perspective for Difficult Times" into the university community's inbox. What most students remember is simply the shock: the experience of reading an email so out-of-touch, bewilderingly obtuse, and mind-numbingly verbose. But for those working on the second floor of Harper Memorial Library where the email was conceived, drafted, revised, and debated, this is a different story. It's a tale of a staff frantically racing against the clock, rising to meet the "rhetorical challenge of a lifetime", trying not to tear itself apart and doing it all as the world quickly collapsed around them. Granted unprecedented access to key administration figures, we spoke to the people involved in creating the infamous email — a cast of characters both familiar and unknown to the student body — on its anniversary. 
---
On March 12th, the world — and the University of Chicago with it — was hit by wave after wave of shocking news, culminating in the announcement that the University would transition to remote learning for the upcoming spring quarter.
Jay Ellison, Dean of Students in the College: The day everything fell apart, that was a trying time for us in Harper, especially at the Dean of Students' office. I remember scrambling to revise everything: plans for finals, working with Zimmer's people on plans for next quarter. We were all over the place, but we got it done. I don't particularly remember what Boyer's office was doing, though. I don't think we interacted with them at all. 
John W. Boyer, Dean of the College: I remember, early on that day where coronavirus became a tangible threat, having the immediate instinct: we need to say something. That's what the [Dean of the College] is for. My students needed to feel comforted, and safe. That was my responsibility, not unlike Augustin, the legendary balladeer who kept Vienna in good spirits while enduring the devastating Great Plague of 1679. To meet this rhetorical challenge of a lifetime, I made the letter my top priority.
Robert Zimmer, President of the University: I think John has this idea — actually, I know he does, he's told me — that he's a young prince and I'm his regent. He thinks he's some sort of ceremonial figurehead leader with no actual administrative duties. That's my job, not his! But he's more aggressive about it, so we always have to end up picking up his slack. Sure, fine, go and write your email, we'll get the university through a pandemic, no problem John.
But it better be a damn good email.
---
That afternoon, as Zimmer, new provost Ka Yee Lee, Ellison, and their respective staffs were frantically readying the University's coronavirus protocols for spring quarter, Boyer's office was also at all-hands-on-deck. 
Zimmer: I walked by Boyer's office once, and I noticed everyone's desk was empty and the door to Boyer's office was shut. I guess he might have been yelling at the staff? I don't remember much, but that stood out. Especially when I got back to our part of the building and people were running all over the place, trying to reschedule everything, getting in each other's way.
Michelle Myers, Executive Assistant to the Dean of the College: So you might think sending out an administrative email is simple. Someone writes it, someone proofreads it, someone pushes the button, done. That's far from the case. We work really hard on these things. We usually even bring in a focus group or two. So having less than a week to prepare, yeah, that was tough. I think John really felt the pressure.
Dana Kendrick, Assistant Director of College Communications: The Dean's not really hands-on with his staff. I usually ghostwrite his emails, and I see him maybe once or twice a month. But when he called us into his office I knew something was up.
Boyer: I called everyone together because I knew how short my window was. Every legendary figure at this University has had a defining moment like this, and I knew mine had arrived. Instead of just building tall and plain dorms, I could finally be William Rainey Harper recruiting intellectuals to develop a strong academic community, or Robert Maynard Hutchins trying to annex Northwestern.
Kendrick: So Boyer gathers everyone in a circle and gives us some long winded speech about "this is our moment," or something, except every so often he slips up and says "my moment" instead. He tells everyone that all of us, including him, are going to write a letter to the student body, and that we'll send out the best one. I was just standing there thinking: this is my job. This is what they pay me to do. I'm being replaced by… everybody. Is this the only thing our office needs to be doing right now?
Elizabeth Craig, Deputy Dean of the College for Academic Programs: I'm basically the COO of the College. I have a doctorate degree. But I'm technically part of the office, and John says he wants to be a 'leader of the people' or something, so everyone means everyone. And all of a sudden an extra part of my job for the next few days is to cheer up some teens and twenty-somethings, so, uh, that was interesting.
Kendrick: I wasn't even going to try to write anything good. I didn't see the point. If Boyer went to these lengths to end-run around my job, he clearly didn't have any confidence in me.
---
As Dean Boyer's staff settled into the task of crafting their entry in what was essentially an office-wide, mandatory essay contest, the rest of the university's sprawling administrative system kicked into high gear in response to the pandemic. Within 48 hours of learning the news that the university planned to hold spring quarter classes remotely, undergraduate inboxes were filling up with emails from the president, provost, dean of students, and medical center — but nothing from Boyer. 
Ellison: Because of the pandemic, we broke from tradition and tried to be pretty proactive about sending out school-wide emails. I think it was Thursday morning that Bob [Zimmer] sent out the announcement about going remote for spring, and then it was off to the races. Not that it was a race, of course — really only John thought of it that way.
Myers: I remember when Zimmer's first email went out to the student body, John was beside himself. I know he wanted to be the first to say something about the pandemic, but I guess I didn't realize how much he wanted that. And then a couple came from the Dean of Students' office and from the provost and I think that was the last straw. He felt like he was entitled to be first. So he accelerated the timeline.
Kendrick: Boyer had this whole elaborate process planned out for how to "develop the perfect message," I think he called it. He wanted everyone to do multiple drafts, and hold an election to determine which one to send out. I guess once a bureaucrat, always a bureaucrat. But all of a sudden someone else sends out one email, and that goes out the window. He was crazy mad. He stood in the hallway banging a glass to call the meeting.
Ellison: The Dean of Students office is right there on the second floor of Harper, so having John interrupt our day like that was jarring. He was yelling at his staff, but it was almost like some of that anger was directed at us. He did it in the east end of the hallway, right near our offices too. I had to use the bathroom, and I made sure he was gone before I crossed the office.
Kathleen Yang, Associate Dean of the College: It was a Thursday, and John wanted to get the email out by end of business Friday. That meant finished drafts were due by the end of the day. I think he just switched back into professor mode for a bit. I don't think that decision worked so well, though. Since we were pretty busy even without the emails, a lot of us had to abandon quality just to get things finished. 
It honestly reminded me of college.
---
Faced with the pressure-cooker stress of an impending pandemic and a constantly moving deadline, Boyer's staff had a variety of reactions.
Rose Lafferty, Director of Staff Relations: Don't get me wrong, I resented being made to write my version of the email, and I think that reaction was pretty consistent across staff, but the new deadline hurt too. But by then, I had become strangely attached to it. I was essentially telling the student body what I needed to hear at that point: everything will be okay, we'll get through this together. Writing my email was cathartic, and I didn't want to leave that mindset.
Craig: When the deadline moved, that really pissed me off. It wasn't so much that the task was challenging, it was that John was putting me and the staff through this needless stress all of a sudden. I think the fact that he was 'living out history' really got to his head, because ordinarily our floor of Harper is pretty laid-back, even fun. I figured he needed a taste of that playfulness again. So I asked Dana Kendrick, our usual writer, if she would write something the office would appreciate, to bring a little of our usual environment back. 
Kendrick: I was pretty checked out that week. I'd finished my draft on Thursday morning. It was garbage. I spent most of Friday looking for toilet paper on Amazon. I had almost left before I got Assistant Dean Craig's message. I had about 45 minutes left in the workday, but I told her 'yeah, no problem,' deleted most of what I'd already written, and got to work again. The new email was mostly fueled by my rage, but I got it done by five, and I left for the weekend and mostly forgot about it.
Craig: Dana's work was unlike anything I'd expected. All I was thinking was: I hope John doesn't take this the wrong way.
---
By Friday afternoon, the email had failed to materialize, and finals loomed. And as the global reach of the coronavirus became ever clearer, students, faculty, and staff alike had to juggle the workload of their normal academic roles with the necessity to prepare for the upcoming lockdown. So when the office reopened on Monday, nobody knew what to expect.
Kenneth S. Polonsky, President of the University of Chicago Health System: On the Friday afternoon when we had our first positive COVID test, we sent out an email right near the close of business to inform the community. The first confirmed case in our community was a wake-up call for all of us, and we started talking about a university-wide work-from-home policy almost immediately after we got the news.
Myers: The office that Monday was probably the tensest I've ever seen it. Nearly everyone was focused on whether there would be a lockdown, and it was hard to get anything done with that looming. Since nobody knew how long we had before the office closed, John decided he wanted to gather everyone first thing in the morning to choose, edit, proofread, and send out a draft of the email. Our whole staff crowded into his office all at once.
Boyer: Owing to the profound importance of this letter to the university community, I thought it only fair to give my staff an opportunity to engage with our final product. Frankly, I also wanted an opportunity to commend them on their good work.
Renee Herald, Vice-Associate Director of Inter-College Communication: The first thirty minutes of that meeting were possibly the most boring thirty minutes I've spent working for the University. Boyer said he'd read each and every one of our emails out loud, and they were all incredibly similar, including mine of course. "We'll get through this together," typical community, perseverance, care type of messages. I was amazed he made it through them awake.
Kendrick: Boyer starts reading out the emails, which of course he calls 'letters,' and the whole time I'm standing in the corner, sweating, hoping that he understands what I was trying to do. I was really fed up on Friday, and what I wrote ended up being a particularly mean caricature of him. References to World War II Europe, ancient Greek history, the enduring value of liberal arts, the whole nine yards.
In retrospect, I didn't go far enough.
Derrick Klein, Deputy Dean of the College for Academic Affairs: Dana knocked it out of the park. No notes. As a staff, it was tough to contain our reactions, but this wasn't our first rodeo. When Boyer likes something, you nod along. You certainly don't laugh in his face. That being said, at a certain point we thought we were going to have to make it clear it was a joke.
Boyer: I have to admit I was puzzled by my staff's reaction to that letter. But at a certain juncture, it doesn't behoove one to think about how others will react, especially when your aim is to assuage others' feelings. All I knew was that Ms. Kendrick had written a profoundly moving, truly timeless letter, and that meant no other submissions were needed.
Sam Lehrer, Assistant Dean of Administration, Retention, and Assistant Deans: At the time, I was of two minds. I didn't really want a letter like this to ruin our credibility. But on the other hand, I knew Dana's letter was right before mine and I really didn't want to hear John say 'community' another sixteen times. So I shut up.
Kendrick: I tried to talk him out of sending it, but he was really attached. I didn't have the heart to tell him everything, but I did mention that I wasn't as big a fan of it today as I was on Friday. Unfortunately, he didn't seem to care that everyone, even its own writer, was telling him it sucked. He said I lacked courage or something.
---
Once the email hit students' inboxes, well, you remember. Ordinarily, it would have been uncharacteristic for Boyer not to monitor student response to one of his 'communiques,' but, in part due to COVID restrictions, that Tuesday was the last day Boyer would spend in his Harper office.
Boyer: They showed me how to hit 'send,' and I did. It went out Tuesday. At that moment, it felt like our work was done. We'd sent a tremendously inspiring letter out to students in crisis, then went home for the year. I mean, stepped back to give them the space they needed for the year.
Myers: John was just paralyzed by the idea of doing anything else after the 'perfect message.' He thought it'd ruin the work. So he kind of dropped off the radar for the year. I mean, they gave us the year off after that letter because of him, so I guess I can't really complain in the long run. 
Ellison: The pandemic was hell for us administratively. Pass/fail, remote classes, changing the quarter schedule, you name it. We had a ton of work to do in a short period. It was especially tough that we had to do it without John. And the reaction to that email kind of made it worse. It really undermined our credibility with students.
Boyer: I have to admit, I didn't really pay attention to student sentiments at all. The letter was a smash hit, right?