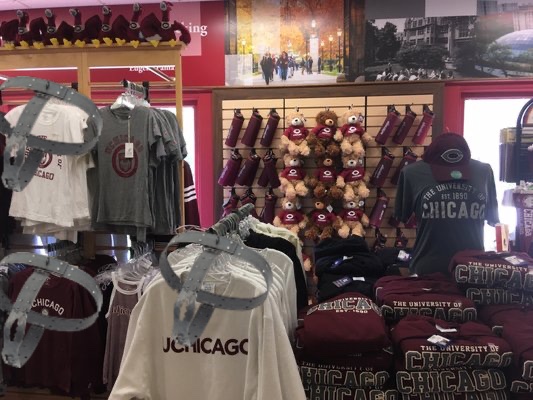 Review: UChicago Student Bookstore's New Chastity Belt
Following its release of the UChicago condom and UChicago Morning After Pill™ last academic year, the student bookstore has continued to invest in its line of safe sex-related swag with its new UChicago-branded chastity belts. Announced on Facebook last Thursday, these chastity belts are almost sold out. The Dealer, however, has managed to acquire the product in order to provide our readers with a faithful and accurate review.
How much does the UChicago chastity belt cost?
Ranging in size from 1½" to 3", the UChicago chastity belts are currently priced at an affordable $49.99 – although the pink glittery one cost me $59.99. For context, cheaper belts lie around the $15-30 price range, while high-quality belts often cost between $70 and $170. The handmade ones can reach several hundred dollars. Based on price range, it seems that UChicago plans to continue its pattern of having mediocre, but wearable, merchandise.
How good is the UChicago chastity belt?
The UChicago-branded chastity belts are more rigid and – sometimes – more painful than most competing schools. The Dealer recommends that newcomers pick a larger size than normal to accommodate for this. Consumers should be aware that they are not suitable for those with plastic allergies, leaving rashes in awkward areas. Further, I have found that refunds are not currently being offered for the pink glittery ones.Does the UChicago chastity belt live up to its marketing?
The University's marketing seems mostly focused on the various benefits to students during midterms and finals, claiming to "prioritize the instinctive nature of students to study, rather than the instinctive nature of students to fuck." The Dealer has conducted an extensive study on this matter, and has found that pink glittery chastity belts, while not as effective as quarantine, overshadow the UChicago condom.
The Dealer's Conclusion
The Dealer considers UChicago's chastity belts to be a thoughtful and useful addition to the student bookstore. We are waiting excitedly to see what the Student Bookstore comes up with next, and I at least am hoping for the highly-anticipated textbook-flavored lube.